Automatic Hot Stamping Machine for Sheet YCH-6000S
1. Used to hot stamp "Holographic anti-counterfeit label", "Signature panel", "Gold/silver/color of pattern/LOGO/text", "Scratch-off label", "Bronzing/silvering on the embossed convex numbers" on plastic sheet.
2. They can hot stamp hologram label and signature panel for credit cards, such as VISA, MASTER, JCB, UnionPay, RuPay, Diners, AMEX.
3. It stamps on plastic sheet before lamination. The security label will be covered by a film to be laminated. In this way the security label can be well protected.
4. As it stamps on sheet, there is no limit for stamping position of a card.
5. PLC control, HIM operate, automatic feeding and stamping, Servo motor drives stamp.
4. Stamp position is accurate.
5. It can stamp on different size of sheets.
6. YCH-6000S is flat stamping, has 1 stamp station (1 stamp head). When working, the workbench moves and the stamp head is fixed.
We have 4 models of hot stamping machines:
YCH-6000E: Flat stamping, 1 stamp head.
YCH-6000B: Flat stamping, 2 stamp heads.
YCH-6000R: Roll-On stamping, 1 stamp head.
YCH-6000S: Flat stamping for big sheet.

YCH-6000E videos:
1. https://youtu.be/ohWcGZS4a1I
2. Stamp scratch label: https://youtu.be/Ot2CGBrk51Q
3. Stamp logo: https://youtu.be/SXp-C9mxX2U
YCH-6000B videos:
1. https://youtu.be/ebNyN4Mi70Q
2. https://youtu.be/UKPWh-AG-VE
3. Stamp VSIA card: https://youtu.be/UnJck6AUZuc
4. Stamp Logo: https://youtu.be/MB2VSmWgFTc
YCH-6000R, Roll-On stamping machine video: https://youtu.be/P24Ze22gIRI
YCH-6000S, Sheet hot stamping machine videos:
1. https://youtu.be/7NN5x450mzY
2. https://youtu.be/HnWNLNWb8Vw


Sample Cards: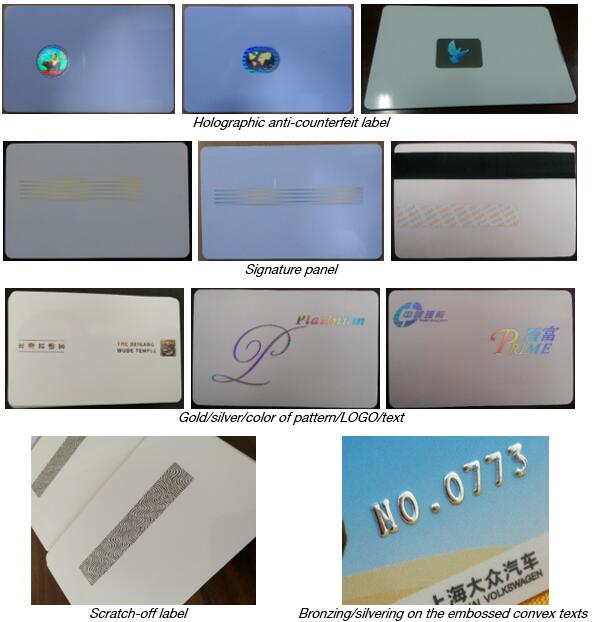 YCH-6000S Parameters List:
| | |
| --- | --- |
| Materials: | PVC or other plastic sheet |
| Material thickness: | 0.12-1.0mm |
| Max sheet size: | 600×580 |
| Sheet laying | By hand |
| Heating temperature: | ≤250ºC |
| Temperature accuracy: | ±1.0ºC |
| Stamp head | 1 |
| Sheet moving | X and Y axis |
| Stamp head moving | Z axis |
| Position accuracy: | ±0.10mm |
| Power supply: | AC380V 50Hz 3 phases 5 wires |
| Power: | 3kW |
| Max pressure | 3000N |
| Throuput: | 2000-3000 cards/hour |
| Reject Rate: | ≤0. 5% |
| Dimension: | L1820×W1300×H1800 |
| Weight: | 1250 kg |
YCH-6000E / 6000B / 6000R Parameters List