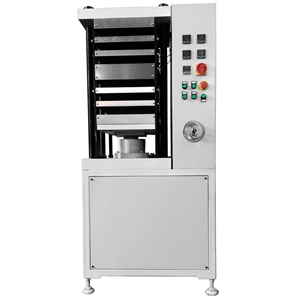 Product Info
A3, Normal Control, Single Tower, 3 Heat+3 Cool; Fusing Machine YCY-115FA3 350*500
1. Designed for small and medium-sized card factories to produce plastic PVC cards.

2. Suitable materials: PVC、ABS、TESLIN、PC、PET、PETG、Synthetic paper, etc.

3. Lamination board size is 350*500mm, suitable for A3 size sheets, standard CR80 size cards in 3*7 layout.

4. Single tower structure, one hydraulic cylinder. Heating daylights at up, cooling daylights at down. When heat and cool laminate work at same time, can use only same pressure.

5. 3 heating daylights (at up), 3 cooling daylights (at down).(Daylight = opening = drawer).

6. Hydraulic pressure.

7. Electric heating.

8. Water circulation cooling. Need water chiller or water buckets.

9. Ordinary electrical control type.
● No PLC, No touch screen.
● Temperature set and controlled by temperature controller.
● Pressure set and controlled by pressure gauge.
● Time set and count by time relay.
● From start to end, keep one pressure value, No pressure grades.

10. Lamination board material: No.45 stainless steel.

11. The hydraulic system and important electrical parts applies the famous-brand parts, ensure machine quality.

12. The whole machine structure is well compact and rigid.

13. Heating temperature and pressure are controlled automatically. The operation is easy.

14. It equipped with water pump for cooling system. Put pump in water bucket. Or use water chiller instead of pump and water bucket.

★ Youtube video link:
Video 1: https://youtu.be/bArmUoKakRI
Video 2: https://youtu.be/UCjhJlxZiWI
Video 3: https://youtu.be/w2r7PGewr7A
Video 4: https://youtu.be/jdLB5uwd4QM
Note: In these videos the laminator is YCY-115FA4, same appearance, same structure, same work process with YCY-115FA3.